Compact cabinets
Fiberpowertech has developed a low-cost and compact Street Cabinet. When building your FTTx network, you often need to handle and work with your fibre optic cables. The Fiberpowertech Street Cabinet enables you with easy access and fast and simple handling. The FPT Street Cabinet comes with a wide variety of options and configurations, to make sure they fit your specific network.
12 -288 optical fibers
Breakout possibility
Rubber sealings elements ø2 – ø12mm
Easy mounting in 2 sections
Made in painted Aluminium
Violence protected with different lock systems
Standard cable size from ø2 – ø12mm
Fitted with splice cassettes, and an easy to use "Comb" system for mounting the microducts, all in one compact solution, working with the Fiberpowertech Street Cabinet is easy, fast and effective!
Changeable front cover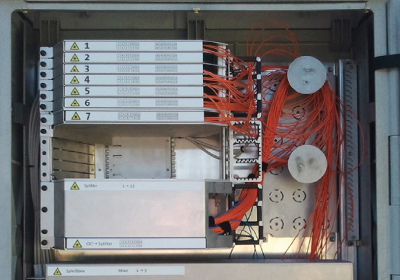 In case of damage, graffiti or posters the complete outer shell can be replaced in 1 minute. No need to clean the street cabinet at location, it can be done in a chemical approved environment. Will save time and cost.
The front cover as an commercial campaign for Fiber To The Home "100 MB for 32€" easy to change –  back to "normal"